Mission Statement
We are a prayer based organisation that believes in maximum returns on every resource Christians are endowed with in every area of work and ministry. Whether by individual effort or church. Our church missions work targets Africa. We know and understand Africa. We help churches avoid the cultural pitfalls that hinder the work of the gospel with many well intentioned but unlearned mission attemts that end up in frustration for both parties.
At the same time, we assist the ministries on the field in Africa with the most efficient way to connect with those who have genuine interest in seeing the work of reaching and saving souls move forward quickly.
Our method is to encourage the use of the abundantly available resources, talents and gifts through:
1.Establishing long term ministry relationships
2. Two way knowledge and ministry exchange
3. Business & working relationships and Christ centered financial stewardship


Our Vision.
Purpose Be a Christ Centered Network (ccs) supporting Mission Work To Africa
Goal
All Africa To Be Evangelized
Method
Twofold: (1) Ministry Support, facilitate relationships between ministries and businesses through transfer of gifts, talents, knowledge, guidance and advice (2) Transferring part of our financial increase in business to finance the Gospel in Africa
Belief
It's the Lord who gives power to get wealth and all earth belongs to Him.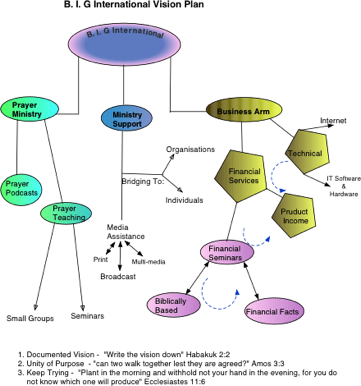 Fastest Evangelism
1.Provide the necessary tools to frontline ministries

2.Efficiently channel church resources and talents
3.Training for responsible use of resources/gifts 
The term B. I. G stands for "Believing In God".
We believe that body of Christ is international with millions of local ministries and local churches. God wants all the fullness of the earth to work toward redeeming man back to Him.
We are called to bridge ministries and local churches through their Missions work with particular attention to Africa.
Our work involves helping churches and Christian led businesses in the Western hemisphere to connect with worthy ministries in Africa  to avoid the pitfalls of ministry abuse and "donor fatigue".
When we do commercial work, part of our profits are donated to help African ministries in their work. When you give a free will gift or service,  90% goes to the men and women on the frontline of the gospel.
A resource database, click above to access
Habakkuk‬ ‭2:2-3‬ ‭NLT
"Then the Lord said to me, "Write my answer plainly on tablets, so that a runner can carry the correct message to others. This vision is for a future time.
‬‬